==
Adidas Superstar
==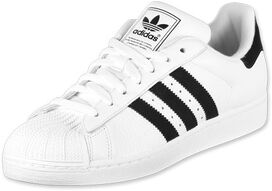 The Adidas Superstar is a low top basketball shoe, also known as the shell toe, shell shoe, or the shell top. Intoduced in 1969, it is one of the company's best-selling shoes, , B-boy, and sneaker culture.
Description
[
]
The Superstar is a low top version of the pro-model. Its is known for its iconic rubber "shell toe", as well as sporting the 3 stripes on the side. The Superstar 2 introduced thicker lining, as well as a pattern or the shell toe. Although a basketball shoe, the superstar is also popular as casual streetwear, and in the Hip-Hop and Breakdance community.
History
When first introduced into the market, the low top basketball shoe became popular very quickly, most notably with Kareem Abdul Jabar. As it became more popular on the court, it also became popular on the streets. The iconic, Queens based Hip-Hop group, Run-DMC was especially known to dress the same off the stage as they did on-stage. They were best known for wearing adidas superstars without the shoe laces, imitating a prison fashion. Also popular amongst breakdancers in the 80's, the shoes popularity spread. Now still popular amongst youth and music culture, the superstars shape has been revised with thicker padding and a new shell.